S. A. Smith Co.
History of the S. A. Smith Company
The following history of the S. A. Smith Company was contributed by family member
Sanford A. Smith.
The original company was "Alvah Smith and Sons". Alvah Smith and Lucinda Weatherhead had 10 children, but I do not know which, if any others were involved. This concern was located on the family farm in Weatherhead Hollow, a section of Guilford Vt. Born in 1840, Sanford was the eldest son. He was in the Civil War at Gettysburg. Manufacturing expanded after he returned from the war.

The first real factory, that I know off, was built on Broad Brook in Guilford Vt., The building still stands , there is a manufacturing concern there, that produces stuffed trophy animal heads. Sanford and his wife Ellen Hunt built a house next to this factory location in 1872, but I do not know which building was completed first. They moved the manufacturing into Brattleboro soon after, to be nearer the train tracks, for receiving supplies and shipping out finished goods. They moved into the newly vacant Estey Organ factory at the base of Main Street Hill, intersecting with Canal Streets.

I think this factory burned. You can imagine the large amount of saw dust in a wooden factory building that assembled wooden toys, and the simple machinery. Both the Estey and Smith factories were plagued by fire. When the Estey factory expanded again, this time to a large slate faced factory on Birge street, the Smith and Hunt factory moved into the newly vacant Estey Factory on Frost Street. I know that the Smith Factory had a few fires.

After one fire, the company was reorganized as S. A. Smith and Co. and was still owned by the family. Brattleboro had two organ companies - the Estey Co. and the Carpenter Organ Co. With these companies and the Smith toy factory, there were many woodworkers living in this small town. Since the hand tools were owned by the craftsmen who took them home every evening, re-opening a factory was not as difficult as you might first expect. After the fire of 1899, (still an estimate), the family was not willing to re-build on their own. There were a number of investors who wanted to keep the towns second largest employer operating with Sanford still in control.
In 1903, National Novelty Corporation was formed, linking S. A. Smith & Co. with 37 other toy companies. In 1907 National Novelty went into receivership then came out of it as Hardware and Woodenware Manufacturing Co. Each company maintained its own Identity, and facilities, with National Novelty Co. as more of a co-op. These companies did not compete, but rather complimented each other's lines avoiding duplications, they shared a showroom, and central sales staff in New York City, at 693-697 Broadway . In 1908 Hardware and Woodenware Manufacturing Co. went into receivership. Then the Manager Sales Co was formed. At this time the S. A. Smith Co. was run by Sanford's son, Fred who managed the business end with Sanford's other son, Charles Alvah, running the manufacturing end, in both the Brattleboro plant and a Philadelphia plant. Charles was a mechanical Engineer, designing most of the machinery and tools, and die cuts for the firm.
Sanford died in 1911, and Charles returned from Philadelphia. Fred died in 1915. Fred's wife Edith then sold the family's remaining interest and moved to New Jersey. Charles I believe did consulting work for the toy factory, as well as for the Franklin Air cooled Automobile co, of Buffalo, NY, and the Packard Motorcar Co. of Detroit. Though he never really retired, Charles had a small sideline hobby/ business of assembling wooden work clocks , manufacturing over 600 before his death in 1946. It is my understanding that the co-op was dissolved, with most of the factories being completely returned to their original owners. The Smith family was no longer involved. The remaining assets I believe were merged with a toy factory named Brown in Leominster, Mass. In the 1930's my grandparents Sanford II, and Lillias Smiths, were approached, to sell the S. A. Smith name to the company but they refused. They had a son, Sanford the 3rd, my father, and wanted him to own the name.
Original Brattleboro Factory at left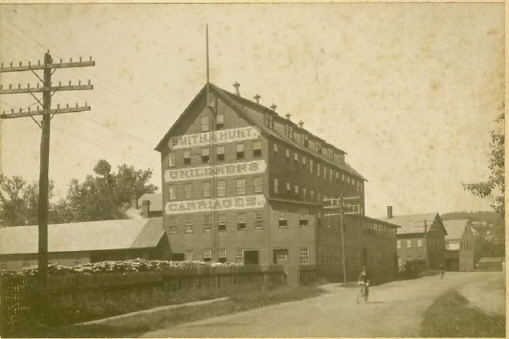 Second Brattleboro Factory
The following images are from the collection of Sanford A. Smith

The Company also made furniture. This is a very handsome side table.

This is the catalog page for the side table at left.

Rover

Sunnyside Farm Wagon

Shoo-Fly

Rooster

This catalog page is from 1923.

Hillside Farm Wagon

1923

Wheelbarrow

1923

S.A. Smith Catalog from 1888

Hilly the Horse

Coal Wagon

1923

Elephant

1923

Doll Carriages

Sunnyside Farm Wagon


Photo courtesy of Morphy Auctions
More SA Smith Toys
Click on the thumbnails to enlarge.

S. A. Smith Three-wheeled car riding toy.
About 40 inches long. Three-wheeled vehicles were popular in the 1920s.
Photo by David Reed
Photos of this beautiful Sunnyside Farm, S. A. Smith wagon is courtesy of Dan Chaika.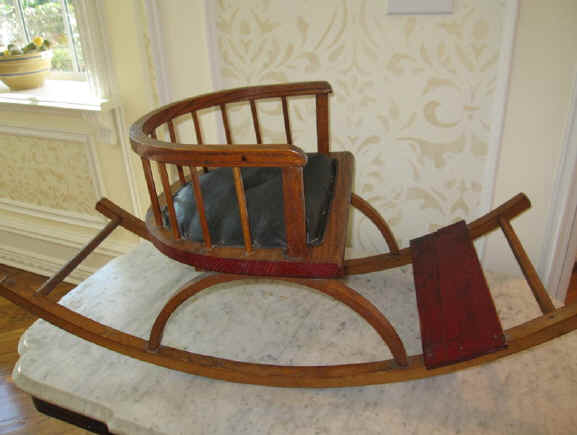 Photo courtesy of Rebecca Marriott

Child's Rocking Chair

S. A. Smith made this chair of oak with a straw-stuffed seat cushion.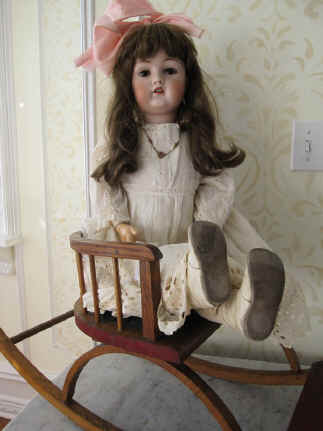 Photo courtesy of Rebecca Marriott

It is perfect for displaying Dolls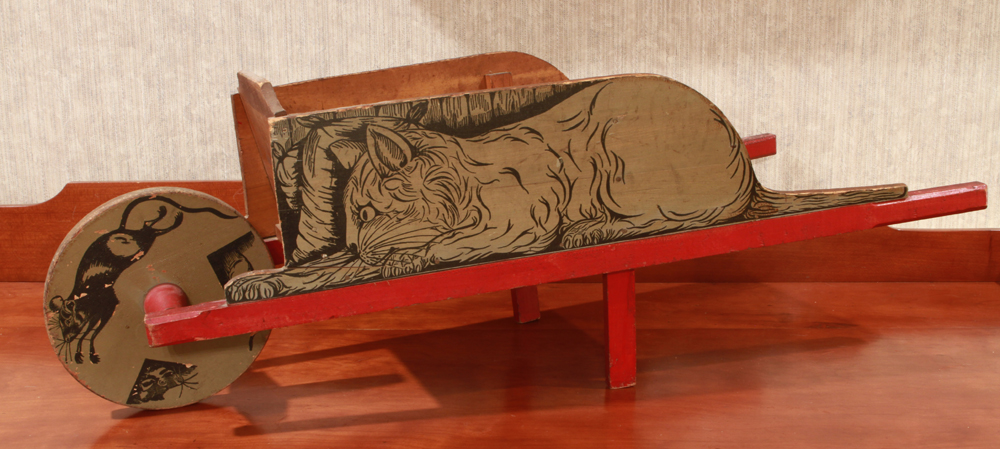 Photo by Jim Sneed

Cat and Mouse Wheelbarrow

The rather large all wood wheelbarrow child's toy animates a cat stalking a mouse.
The overall length is about 36 inches.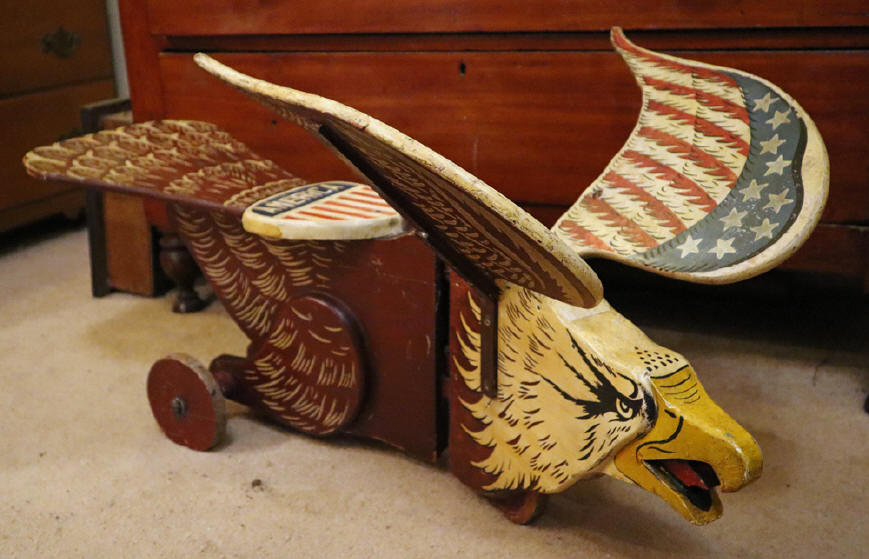 Photo by Jim Sneed
Bald Eagle Riding Toy
Large (39 inches long) SA Smith child's riding toy. Beautiful and highly patriotic toy ca 1900
A prominent collector of S.A. Smith toys is Richard Mueller. He can be contacted at: home1@rpmpizza.com