Contact Us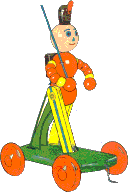 * Please contact us anytime as we are always interested your comments and questions. We will need an email photo of your toy if you want some information about it.
* We sometimes buy pre-WWII toys or find buyers for your early toy or toy collection.
* We will do restringing of Schoenhut circus and certain other toys (usually $16 - $30 each) and some repairs.

Don't contact me if you think you can improve my website. This site is already ranked NUMBER 1 in both Google and Bing searches for "old wood toys" and many other "old toy" related search terms.
Click here to email Jim: JLSNEED2@BELLSOUTH.NET
Be sure to indicate a "Subject:" that is old toy related so we can tell it is not junk email. Emails with no Subject will not be opened. I'll need to see pictures of your toy to identify it. I don't know very much about non-wooden toys nor toys made after WWII. Except for Schoenhut dolls, I know next to nothing about dolls.

This Page was created on August 14, 2016