The Toy Kraft Company
Wooster, Ohio
1916 – 1950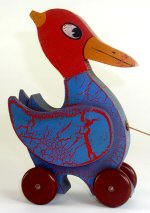 By 1927, the company was shipping over a million colorful wooden toys a year around the country. In the 1940's Toy Kraft introduced a cheaper cardboard material in their toy production which effected the quality of their toys. Toy Kraft's earlier toys can be identified by a white sticker that reads "Duckartoys Toy-Kraft Toys." Their later toys are identified by a square sticker that reads "The Toy-Kraft Co. Studios" and then "Toy-Kraft, Inc. Wooster." Toy Kraft's original toys were made with ponderosa pine and included lead-based oil paints.

In 1940's the company was sold to Bauer Manufacturing Company and in 1950, the company filed for bankruptcy. A Wooster, Ohio company is currently reproducing Toy Kraft's designs – but they have to use different wood, white pine, plywood and fiberboard, since ponderosa pine is no longer available. Reproduction toys have the later sticker "Toy-Kraft, Inc. Wooster".